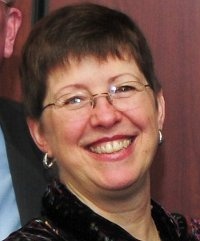 Ann Poelking Klonowski
Ann Poelking Klonowski is a teacher who has taught preschoolers to adults. She earned a bachelor's degree in education from Ohio State University and a master's degree in religious studies from John Carroll University. Ann was the founding pastor of the Community of St. Bridget in Brecksville, Ohio. She has been active in her church since her college days when she and her guitar were dragged to the front of the church. She has served as a liturgical musician, a board member on her parish's liturgy commission, and chair of the liturgy committees for two national conventions.
Ann resisted the call to priesthood for many years, but people frequently called on her to lead prayer services and a variety of religious functions. When she asked why, the response was always, "We thought you'd be good at this. And we were right."
Ann is a member of Threshold Choir, hospice volunteers who sing to the dying. She is the mother of two adult children of whom she is ridiculously proud. She has two incredibly intelligent and kind granddaughters whom Ann was privileged to baptize. She lives in Cleveland (Lakewood), Ohio. Although currently a pastor without portfolio, Ann is available to preside at masses, weddings, baptisms, and to anoint the sick and dying.
Email:
klonowska@sbcglobal.net