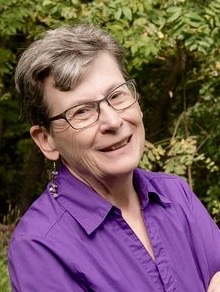 Marty Meyer-Gad
MA in liturgy from St. John's, Collegeville MN, certificate in Pastoral Liturgical Ministries. She has served as parish liturgist, liturgy consultant, hospital chaplain and led worship in prison. Marty's memoir, Seventy-Four Cents, outlines her journey to priesthood. She currently writes highlighting women priests as ministers in various communities.
Marty compiled Detroit's, Basics: a Liturgical Education Sourcebook and inaugurated Chicago's At Home with the Word series. In 1983 she presided with her husband, Bruno, at their wedding. In 1989 they moved from his native Chicago back to Marty's native MN. They live in Mankato, MN, close to their two grandsons and their parents.
Her hospice ministry is balanced with volunteering in various child and community settings. She is available to assist with home Masses, graveside services and to listen.
Email:
authormeyergad@gmail.com
Website:
www.martymeyergad.com