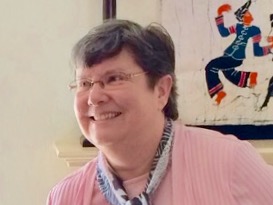 Catherine Aileen "Catie" Shinn
Catie was a dedicated member of the Therese of Divine Peace community, and was willingly being prepared to assume the role of pastor there. It all seemed to be "ordained" to happen. But the carefully designed plans were interrupted and had to be re-interpreted when Catie became quickly and painfully ill. Already a cancer survivor, Catie was ordained both deacon and priest in a quiet catacomb celebration in her hospice bed in Saint Louis, Missouri on Good Shepherd Sunday, May 7, 2017. A non-smoker, she died from lung cancer two months later, still in that same bed.
An Army veteran, Catie had dedicated her life to working for hard-earned benefits for veterans. One of six children in a military family, Catie grew up always on the move. When she thought she had finished her education at Arkansas Tech, she too joined the military, earning the rank of Captain before opting out to try civilian life a dozen years later. Catie later earned a degree from Kansas State University. She worked for the Missouri Department of Social Services, was an associate with the Sisters of St. Joseph of Carondelet, and was an activist for labor, social justice, and peace. Catie was waked, appropriately, on the Feast of the Transfiguration.
May 30,1955-August 1, 2017