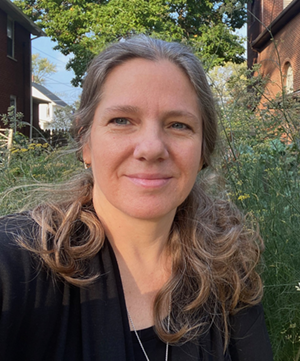 Shanon Sterringer
Shanon Sterringer, Ph.D., D.Min was ordained a priest in Linz, Austria on August 3, 2019 by Bishop Christine Mayr-Lumetzberger, RCWP and Bishop Mary Eileen Collingwood, ARCWP. Shanon is the Founder and Director of the Hildegard Haus and the Community of St. Hildegard in Fairport Harbor, Ohio www.hildegardhaus.org where she presides at Sunday liturgies each week as well as weekly vespers, rosary, bible study, and additional scheduled events. All are available online.
Academics: Shanon earned a Ph.D. (2016) in Ethical and Creative Leadership (focused on the leadership example of St. Hildegard of Bingen) from Union Institute & University in Cincinnati, Ohio; DMin (2012), M.Div equivalent (2010), and a MA in Theology (2007) from St. Mary's Roman Catholic Seminary and Graduate School of Theology in Wickliffe, Ohio; MA in Ministry (2011) from Ursuline College in Pepperpike, Ohio; and a BA in Religious Studies (2003) from Cleveland State University in Cleveland, Ohio. Prior to following her call to ordination, Shanon served as a certified lay ecclesial minister and master catechist in the Diocese of Cleveland for twenty-two years. In the parish she worked in the areas of catechetics, liturgical and pastoral ministry, parish administration, theology, and leadership training. Shanon has also worked closely with a missionary program in India for almost two decades. She has travelled to Bingen, Germany several times over the last few years to walk in the footsteps of Hildegard of Bingen for research and personal/professional development. She has also traveled to the Holy Land and India where she offered seminars on women and ecclesial leadership. Shanon is a well-seasoned retreat director and has offered numerous retreats for women and men on various topics, most notably topics relating to St. Hildegard of Bingen. She has recently published a book through Fortress-Augsburg Press, "30 Day Journey with St. Hildegard of Bingen" and is currently writing a new book on her call to ordained ministry to be published in 2021. Shanon has an active blog www.thegreenshepherdess.org and owns/operates a small fair-trade store in Fairport Harbor, Ohio www.thegreenshepherdess.com
Family and Community: Shanon married Richard Sterringer in 1990. Richard is from the Philippines and they have three beautiful adult daughters. The Sterringer family currently reside in Fairport Harbor, Ohio in the Hildegard Haus rectory. They have been active in the local community for almost three decades. Shanon was named the Fairport Harbor Citizen of the Year in 2019 for her long-time dedication to the village.
Email:
worship@hildegardhaus.com
Website:
www.hildegardhaus.org